Background
Artwork has always been a hobby and passion of mine, but it had always been done in traditional medium for most of my life. I first began seriously working with digital art in the late 2000's by creating textures and assets for various computer games. Through this, I became familiar with the techniques, tools, and software involved in the digital artwork. Around 2016 I found the artwork of artists like Andrew Stewart Jamieson, Quentin Peacock, and others and found it very captivating. Like many others, heraldry created a natural bridge between the interests of medieval history and art. I began to try and create and recreate coats of arms based on various images that inspired me. Not long after that, I discovered some very helpful folks sharing a passion in heraldry on the web in places like reddit, forums, and Discord chat rooms. Their expertise in the field of heraldry helped me to better understand the proper design, display, and study of armorial bearings. I owe a lot to these folks who generously shared their knowledge and feedback with me in my early heraldry days. It was also these same people who motivated and supported my jump into the commission based art scene. By mid 2018, I began to take on commission based artwork for heraldry and other medieval styled artwork.


Since 2018, I have been fortunate enough to have my artwork included in a number of books and publications. In addition to this, I have completed over 150 individual commissions for artwork related to heraldry or medieval artwork. Over time, I have continued to hone my craft, test new techniques and methods, develop a more unique style, and improve myself and my artwork.
FAQ
✠ What format are the images in, and what is their resolution? Images are provided in .PNG format, with transparent backgrounds where necessary. They are set to be 300 Pixels Per Inch, which allows for great print quality. The resolution will depend on the overall size of the piece of artwork. Additionally, because these are not vector graphics, the scaling, editing, and altering of images already finished requires more manual work, and so repeated adjustments to the image can result in additional costs.

✠ How do you take payment and when do I pay? I prefer PayPal be used, as it is easiest for me to keep track of invoicing and history of payments made. In certain circumstances where PayPal cannot be used, I have accepted other methods. Timing of the payment is flexible. You may pay it up front after the invoice is sent or you may pay it in parts. Payment is expected to be sent once I send the first work-in-progress image which usually consists only of the line art. This is done to avoid me completing the artwork and presenting the watermarked copy only to have the client never responding or submitting payment.

✠ How long does it take for my request to be completed? The turnaround time on a commission is entirely dependent on outstanding artworks submitted prior to your own, the complexity of the artwork, and my own availability. Because I am not a full-time artist the time I can devote solely to working on the artwork is limited, so your patience is appreciated!

✠ What program(s) do you use to create the artwork? I use the software known as GIMP, which is free and can be found here.

✠ I don't have a coat of arms, can you create one for me? I prefer the arms be created already, as depending on whether you plan to register the arms there may be rules and guidelines for the heraldry. I am happy to give my personal opinion on what I believe to be well designed heraldry though.

✠ Will you copy another piece of existing artwork, or replicate another artists style? No, I will not copy existing artwork made by other artists. If the artwork is your own, and you'd like it done up in my own style that is acceptable. It is the assumption that you are requesting me to create artwork for you because you wish to see your coat of arms, or an image, in my artistic style.

✠ Do you only create heraldic art? No, and as much as I enjoy heraldry I enjoy the recreation of medieval artwork, or original artwork in the medieval aesthetic, even more. See the Home page, or Pricing section, for examples of this.

✠ Is there any sort of art you won't do? Yes, I will not create an artwork which is explicitly sexual, racist, etc. I always reserve the right to turn down or terminate any commission should I consider it in poor taste, or if it simply does not interest me.


✠ If I did not answer your question here, feel free to reach out to me with your query. ✠
Style of Art
In my early days of working with heraldry and medieval art, there was still a large amount of contemporary influence on the color palette, the shapes and proportions, and the methods of shading and detailing. Since then, I have further shifted to emulate more of the medieval aesthetic, and push out some of the more modern habits. There are already a number of very talented artists who recreate beautiful artwork in a more realistic and modern aesthetic, and if that is what you are looking to have I will happily point you toward some of these artists. However, if you'd like something a bit different that harkens back to the origins of heraldry and follows it's original artistic stylizations, I can help with creating that.

In my heraldic artwork, I adhere to the original principles of heraldry. One of the most important to me is the full use of the space. This means that charges can sometimes be contorted to fit within the confines created by the divisions and ordinaries on the field. It also means that a field with no divisions or ordinaries may be filled entirely with a single charge.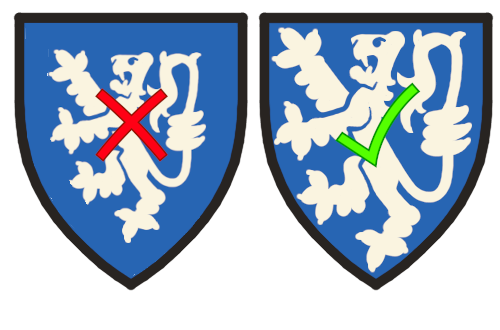 Another aspect of my artwork is that all charges are heavily influcenced by medieval artwork. So you will not be finding any anatomically correct lions or dolphins in my artwork. Instead, charges will all be drawn from various armorials, bestiaries, manuscripts and other original sources. If the charge is a modern charge, I will do my best to create a medieval looking version of the charge. To the modern eye, some of these are almost unrecognizable from their real-world appearance, and so this can be unpopular with those who are seeking a more contemporary portrayal of their arms, so please be aware of this.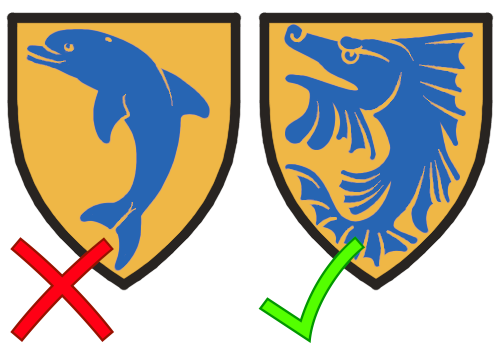 Additionally, while the torse may be required and a part of heraldry for most modern rules and institutions, most of the earlier medieval heraldry and practice did not include the torse. As a result, much of my artwork also forgoes the display of a torse. So if you are looking for a rendition of your arms that you want to use in an official registration of your arms with an institution or organization, be sure to request artwork which includes the torse.